On a whim in the midst of isolation, I ordered the new Cobra Commander helmet from Gamestop. When the helmet arrived, it had issues, there was effectively no chrome on the visor. A little back and forth with GS support and they replaced it with a much better one.
So then I'm thinking, I've got a helmet, couldn't I make a costume? I imagined it would be fun, wandering around a convention, trying to recruit cosplay villains for Cobra.
Here is a look at the costume so far, I'm using the appearance from the original cartoon and a pvc statue of CC I picked up as the reference. Still have a lot of little details to work out as well as props to make.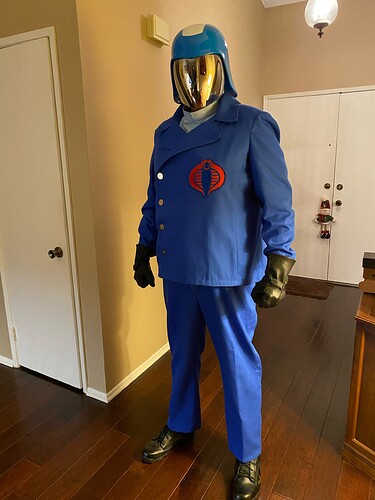 I met two member of the Finest at Comic Con Revolution back in December who suggested I post here and say hello.
I'm working on the belts, pouches and a gold snake scepter right now, I'll post a follow up with more progress.