https://mediocreatbest2927.wixsite.com/patchczar2020
Looking to put together that GI Joe costume, but cannot seem to find the correct patches (because they do not exist in the real world)? Need that vehicle insignia as a patch? Chances are I have it in my catalog. I went through and made all of the character unit patches/tampos and some for the vehicle insignia between 1982 and 199? (and then some). If you don't see something, I might be able to make it (or have it and looked over it). Check out my Wix page for more info. I offer these, Cobra trooper/officer patches, and more. (Examples attached)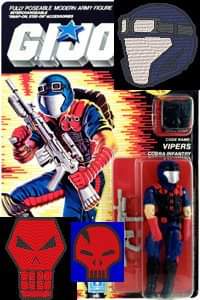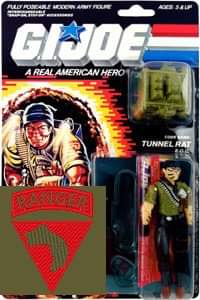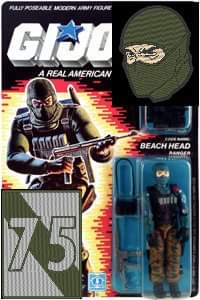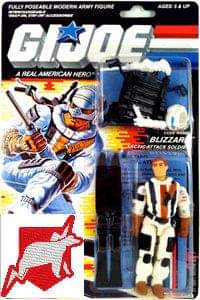 Background images from 3DJOES, YOJOE.com, and other online sources.
I've been making patches since 2017. It began with an idea that I could have my mother make the correct Cobra sigils for the Finest (a GI Joe costume club I am in) and when my mother gave me her Brother SE-400 embroidery machine (I have since paid her for it) because she didn't use it, I have produced quite a few different patches to folks in and out of the Finest.
In 2018, several members of the Finest chipped in for a Singer Futura that has a 6.25" x 10.25" hoop, so I can embroider large sigils on the chests of our troopers and officers. I use both machines.
I only do one offs or small runs of 10 or less, depending on the design. I cannot do very detailed embroidery (a lot of lines) since I only have machines made for home use. I do enjoy designing patches and have done quite a few from scratch. Most patches are done on my 4" x 4" hoop. Default backing is sew on, but iron on backing is a free option. I DO NOT do hook and loop (Velcro) backing.
I do have a full time job and a family. This is a hobby and I do it in my spare time. I feel my prices are fair for one offs and small batches. Money made is for my time and supplies. I can change sizes, colors, and background color upon request. I use canvas duck or twill for the fabric, unless specified in the description. I can also resize to smaller or bigger if requested (depending on the design).
The best way to order is to message me through my Facebook page or e-mail.
​ORDERING
If it doesn't exist, I will try to design it (for a small fee depending on the design) and get you a digitized pic and quote. Please keep the design simple. My machines are home machines and can only do so much. The largest I can do at this time is 6.25" x 10.25". I DO NOT do large runs of patches (see About Me). When requesting a quote for embroidery or a patch, please use one of the links below. The links below will bring you to my Facebook page, so you can message me or send me an e-mail. This is the best way to order patches from me. I will respond to you as soon as possible. Also, I DO NOT back my patches with hook and loop (Velcro).
PAYMENTS
Patches are made to order (nothing in stock). I will not stitch out the patch/embroidery until payment is cleared. When the order is made or design proof is approved, I will send an invoice through PayPal, so I will need your PayPal email address when ordering. In the invoice will be the total including shipping and the PayPal fees. After you have received an invoice from me, please go over it and make sure it is all correct. If it is, please pay the invoice. If you feel comfortable and trust me (currently at 100% delivered), you can either pay through PayPal (via invoice), PayPal Friends and Family, or Venmo.
SHIPPING
I ship small orders in normal envelopes. I wrap the patches in the invoice to help protect the patches during shipment. Shipping is free for four 4"x4" patches. Larger orders (clothes embroidery, more patches, larger patches) will cost more postage. I will quote it before payment. I only ship to the lower 48 US and flats/envelopes to Canada First Class.
If you're not happy, I'm not happy. Satisfaction is guaranteed.