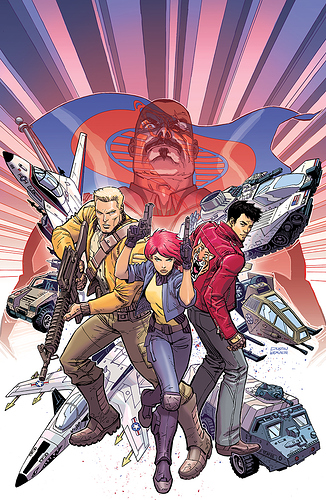 So today was the release of IDW's all new take on GI Joe, a complete reboot and separate from the still running Larry Hama lead ARAH series.
So this new take I'm enjoying so far, it's kind of like Red Dawn meets GI Joe. Cobra is taking over the world, the US is falling to the Cobra invasion as it's troops have taken over parts of America and the US Government activates a new unit called GI Joe. GI Joe is meant to be military gathering American citizens to fight back as a resistance group throughout occupied America.
I really like what I've read so far, it's very different take on GI Joe, but I think the franchise needs stuff like this instead of constantly trying to replicate the same good guy vs bad guy setup. Bunch of new characters introduced as well along with some classic reinventions of old characters. It's early but really interested to see where they go with this and more reveals of some of the new designs for classic characters. Major Bludd is the only revealed Cobra so far.