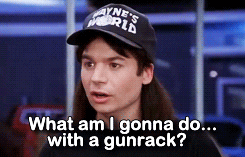 Something that came up recently at a con we were displaying at in the 5th was we had a lot of prop weapons and not a lot of space. Being prop weapons they tend to be more on the delicate side, so if they fall over or get stepped on, they could break!
I found that we were generally leaning them up against the booth table or placing them on a chair when not in service which made a tight space even tighter. When I returned from the con all I had on my mind was for a way to tackle this.
Doing a little looksee online I found some general plans and dimensions to make one but I was also reminded that there were some play sets that had scale versions for reference.
I decided I wanted to take advantage of not having to lift and carry this from a far away parking lot to the show floor. Having just moved into a new home I had purchased a couple of furniture dollies which made life easier on me and turned one into the base for the rack by cutting it down and moving the wheels.
This was all made from scrap lumber that was at the new house already. I lucked out to have some shelving boards and some trim that I cut up and glued and screwed together. I did have to buy a 2" forstner bit to make the groves in a 2x6 that I cut in half to hold the guns in place.
A coat of Cobra blue and a stencil complete the look. This should help out and keep the weapons safe when not in use at the booth for the next Con. If anyone is deeply interested I can give you exact dimensions of what I made. It's not a replica of the toy but it works well and doesn't tip over easily.