I built mine primarily out of commonly available PVC piping and fittings. I also used some specialty components.
3D Printed Parts (RPG-7 by henry_21pc - Thingiverse):
NOTE: I highly recommend making slight modifications to these before printing
Front Sight
Rear Sight
Rear Grip
Rocket (two parts) suggest, adding some reference keys to each half for better fitment
Breech/Exhaust Nozzle
Suggested mods to the files:
Rocket, on the interior surfaces that get glued together I'd add reference keys to each side for better fitment of the parts.
Rocket, on the base of the tail (the surface that would side into the muzzle of the laucnher) I'd add a 1.590" dia cylinder that's at least 3" long. this will allow the rocket to fit securely in the 1-1/2 pipe.
Breech/Exhaust Nozzle, on the top I'd add a 1.590" dia cylinder that's at least 3" long. this will allow the rocket to fit securely in the 1-1/2 pipe.
*Add 1/4 holes for dowel pegs in rear grip.
Add a rail for an optic or/and or print sights folded as they're very fraglie and mine broke on the first outing.
Real parts (commonly found on gunbroker or Numrich)
NOTE: Numrich sells a lot of different real parts that can really add to builds like this.
Stripped Trigger Assembly
Trigger Assembly Side Plate
Trigger Assembly Grips
PVC Parts:
Misc Parts: EVA foam sheets, glue, screws, 1x2 lumber scraps, 1/4 dowel joint pegs. Ring clamps
The Build:
Note: lengths are measured in MM, and from muzzle to breech.
Key:
A - 2" to 2" Schedule 40 Adapter threaded
B - 2" Schedule 40 Repair Couplings
C - 1-1/2" to 2" Schedule 40 Coupling

Muzzle/Trigger assembly.
Note: I'll add the overall length measurement for this piece once I figure out the Gas Expnasion Chamber
Cut the first piece of 1-1/2" Schedule 40 PVC to a length of… MM
From the front of the 1-1/2 PVC opening the trigger assembly should start at 135mm and end around 230mm
In order to secure the trigger assembly to the pipe I cut a groove in the PVC and inserted a wooden block. the block will need to be shaped with a Dremel in such a way that a portion fits through the groove in the PVC and fits into the trigger assemble between the side plate. ( see picture)
Test fit trigger assembly onto the block. Drill pilot holes for screws to attach trigger assemble to block.
Glue block into PVC
Affix assemble to block and pipe with screws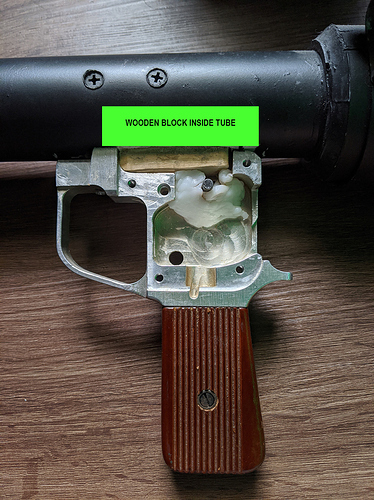 Gas Expansion Chamber
Cut the threading away from part A
Fit parts A, B, B and C together. Some magic here that I can't remember right now
Glue
With a file, sander or Dremel remove material from the second B and part C, starting from the front edge of the second B and ending at the start of the beveled section of C. The goal is to create a flat surface for the read grip to sit in. Go slowly and remove just enough material to allow the rear grip to sit flush.
Cut the second piece of 1-1/2" Schedule 40 PVC to a length of… MM
Glue and Insert 1-1/2" Schedule 40 PVC into
Drill two 1/4" holes in the rear grip for dowel pegs, insert and glue pegs into place.
Use marking fluid, paint, or nail polish to mark were holes for pegs should be drilled on the flat surface you made, drill 1/4" holes.
Add glue to holes you just drilled, insert and glue rear grip to the expansion chamber.
Assemble the two pieces
The section will be completed once I finish the gas expansion chamber.
Heatshield
Need to draw a pic here.
TO BE CONTITUNED…