I'm working towards a possible Field Manual for the Pursuit of Cobra Shock Trooper costume. I know this figure has been under some scrutiny in the past from where it fits into the GI Joe world among other Vipers of the like but I really dig this figure and the best part is, it seemingly would be a decent costume for someone who wants to get in with limited costume abilities as much of this is off the shelf to get started.

Here's my first stab at some of the elements of this figure. Keep in mind that they have many options to outfit because they come with a garage sales worth of equipment to draw upon.
Cobra Shock Trooper (Pursuit of Cobra version)
Boots: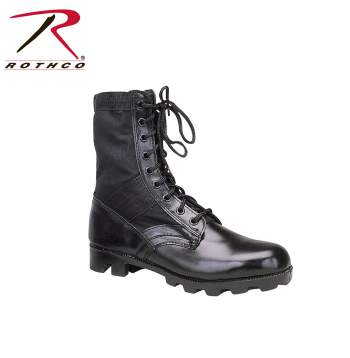 Standard black combat or jungle boots will do. On the cheap:
Rothco Classic Military Jungle Boots, 10, Black https://www.amazon.com/dp/B00JZCCP1G/ref=cm_sw_r_cp_api_i_znCADbN9465JP
Pants Grey, check your sizing.

TACVASEN Men's Tactical Airsoft Paintball Ripstop Combat Trousers Airsoft Pants with Knee Pads Grey
Amazon.com
Rigger Belt: Black, check your sizing.

Seibertron Men's Utility TDU 1.75-Inch Nylon Tactical CQB/Rigger's Military Combat Duty Belt Metal Buckle 3 Years Warranty Fit Waistline 40"- 50" Black
https://www.amazon.com/dp/B01KFK6W92/ref=cm_sw_r_cp_api_i_mNBADbGM265V3
Gloves:

Black Tactical gloves. The figure appears to have reinforced padding to the back side of the hand. Suggesting: New Motorcycle Biker Premium Leather Thermal Full Gloves Black L
https://www.amazon.com/dp/B0045G6KFO/ref=cm_sw_r_cp_api_i_mQBADbRQQDMVS
Shirt in Grey, check your sizing.

TACVASEN Mens Camouflage Camo Athletic Assault Long Sleeve T-Shirt Tops Gray,US XL/Tag 3XL
https://www.amazon.com/dp/B07BW5JF1Y/ref=cm_sw_r_cp_api_i_krzADbYEFYSFZ
Balaclava, Black long version is preferable:

SUNMECI Balaclava - Windproof and Dust Sun Protection Full Face Mask Cycling Motorcycle Breathable Neck Cover in Summer for Men and Women
https://www.amazon.com/dp/B0734PNSS2/ref=cm_sw_r_cp_api_i_6YBADbKTTZ6DQ
Helmet black M88 style:

Modern Warrior Tactical M88 ABS Tactical Helmet - with Adjustable Chin Strap
https://www.amazon.com/dp/B0086Y5E30/ref=cm_sw_r_cp_api_i_b1BADbBM3DR9B
Black Molle vest: NC Star or Vism Plate carrier

Goggles: get these with orange tint:
https://rover.ebay.com/rover/0/0/0?mpre=https%3A%2F%2Fwww.ebay.com%2Fulk%2Fitm%2F253947788487
Cobra Sigil (x4) both arms and chest. Recommend quality maker with hook and loop fasteners
https://rover.ebay.com/rover/0/0/0?mpre=https%3A%2F%2Fwww.ebay.com%2Fulk%2Fitm%2F174010426260
Optional added pieces:
Weapons:

Kalashnikov AK47 Tactical:

http://www.evike.com/products/59912/
HK MP5K stubby 9MM:

https://www.evike.com/products/30730/
SPAS-12 Shotgun: preferred version has folding/collapsing stock

tactical Sledgehammer prop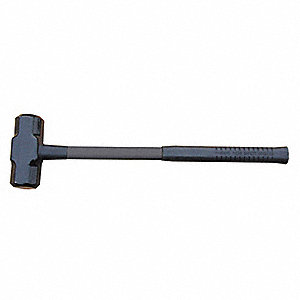 M26 taser prop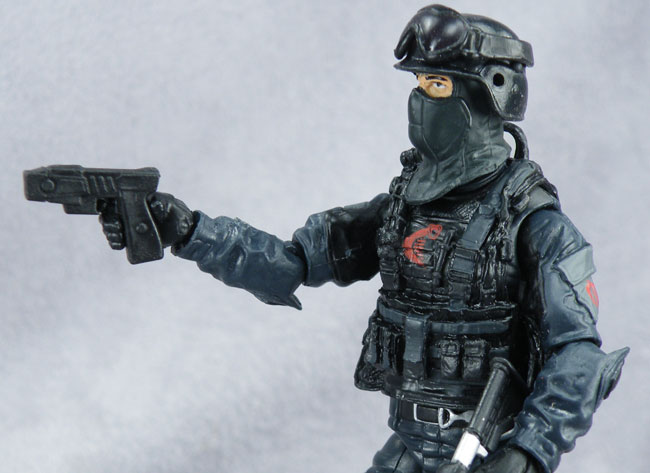 Long billy club style stick prop

Protective Gear:
Riot Shield:

https://rover.ebay.com/rover/0/0/0?mpre=https%3A%2F%2Fwww.ebay.com%2Fulk%2Fitm%2F293088777126
Gas mask: MSA 40mm Millennium (1000) gas mask.
Check Ebay for best deals. New ones cost too much!
Walkie Talkie:
Motorola 2 way police radio.
Compatible with MOTOROLA XPR7550 portable radio.
Tactical shotgun scabbard:

Still debating on this concept of the Tactical Shotgun Scabbard. I feel like that's the intended livery sleeve on the back of the troopers MOLLE vest because it makes sense in a real world. The figure itself does not allow of you to put anything in there, but it does make sense to me with his SPAS-12 that many SWAT and tactical teams employ a shotgun worn on the backplate. I'm open to others interpretations on this piece too.
Load out of pouches is at the taste of costumer. Please try to have your load out make sense to the job of a riot police/swat team/door breacher
I'll be stopping back by when time permits to drop photos in.
I know my choice of grey BDU over Navy BDU may cause a stir, but I think there will be a way to dye the grey versions closer to the figure if the consensus is they need to be closer. The navy BDUs are just too dark. I've seen a few people attempting this and it just looks wrong and too close to our other sea of blue troopers IMHO.