I'm going to share my resources for finding accessories for the wonderful G.I. Joe costume you're building!
DISCLAIMER: Weapons are never required for approval as a member of the FInest. Be sure that you follow the legal requirements of the area you reside in or are traveling through.
Per the Finest Charter, "Under no circumstances are Finest members allowed to carry real firearms loaded or unloaded while in costume or while representing the Finest at any event. Violation of this policy will result in immediate dismissal from the Finest"
The weapons policy in its entirely can be found on page 13 of the charter. I encourage everyone to read through it!
Where applicable, I've noted vendors that I've actually ordered from.
Melee props: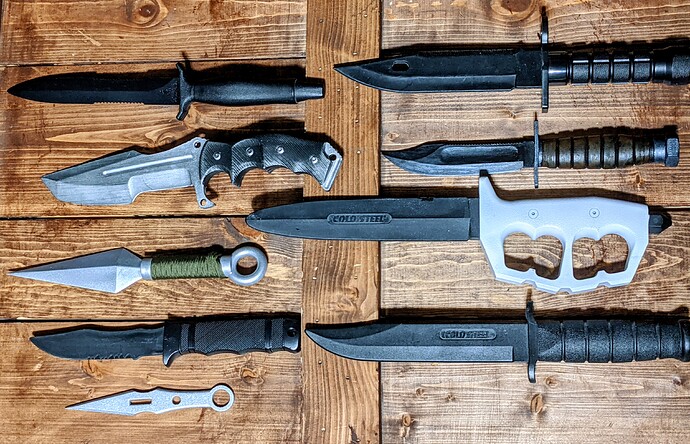 These largely come in three categories. LARP (Foam props), Training weapons (oversized hard plastic), & Replicas (Resin/Wood/Rubber/3D printed)
LARP Weapons (these tend to be oversized and are not well suited for sheathes)
SPIRIT Halloween has a decent selection of foam weapons that are both con-safe and lightweight, plus you can typically get a discount if you stop instore immediately following Halloween

Sparkfoam Swords, realistic foam katanas with a saya, they also have some other swords. I've purchased several items and have generally been pleased with them.

A large number of shops on Etsy also carry LARP weapons in some cases; these folks are just reselling props purchased from other marketplaces, so some careful and thorough searching can save you $$$.
Training Weapons: (oversized, make your own sheath)
Replica Weapons
There are three commonly seen knives used by G.I. Joe costumers available on Amazon, eBay, Evike, and other airsoft stores. All three come with sheaths and are generally made out of rubber and plastic.
I own all of these, and they're fine if a bit basic looking. The knives generally don't fit well in the sheath, and some additional lining helps keep them in place.
However, there is a whole realm of other resin/rubber replicas available with a little more searching. Generally, while these don't come with sheaths, you can use sheaths designed for either the actual real knife or generic knife sheaths purchased off or Amazon or eBay.
One eBay seller than I've purchased several props from. He has quite the selection of different con-safe props though the blades due tend to be thin. Reproduction sheaths for these can be found in various places.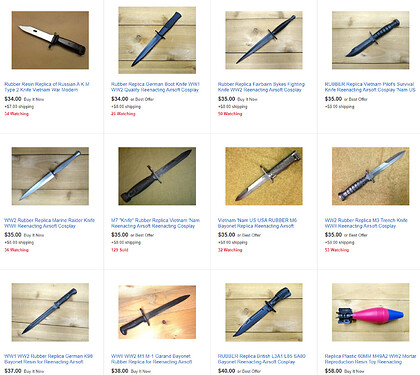 They also have a direct site https://thefieldwerks.com/
Looking for more? A ton of 3d printed and cast items are available by searching prop knife on Etsy!
Some vendors I've purchased from.
[Halo Combat Knife | Etsy]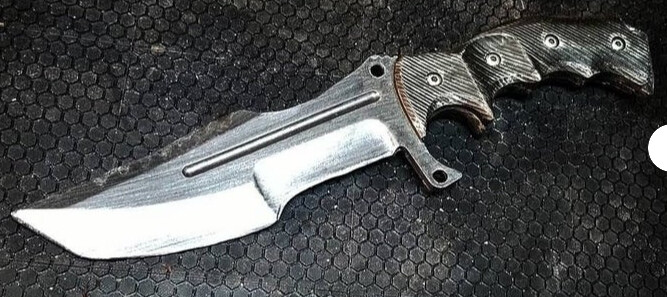 Throwing Stars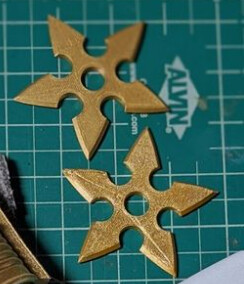 Kunai Throwing Knives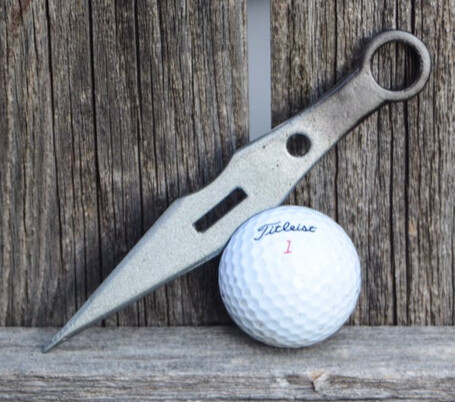 Up next! Grenades and other assorted throwables